How to download YouTube Videos on iPhone
YouTube is a great resource for learning and watching videos. Unfortunately, it can be difficult to download videos for offline use. So how to download YouTube videos on iPhone becomes a problem. There are a few different ways to download YouTube videos on your iPhone.
Download YouTube Videos on YouTube APP
One way to download YouTube videos is to use the YouTube app on your iPhone. The YouTube app has a built-in feature that allows you to download videos. You can find instructions for using the YouTube app below:
Open the app and find the video you want to download.
Tap the download button below the video.
Choose the quality you want.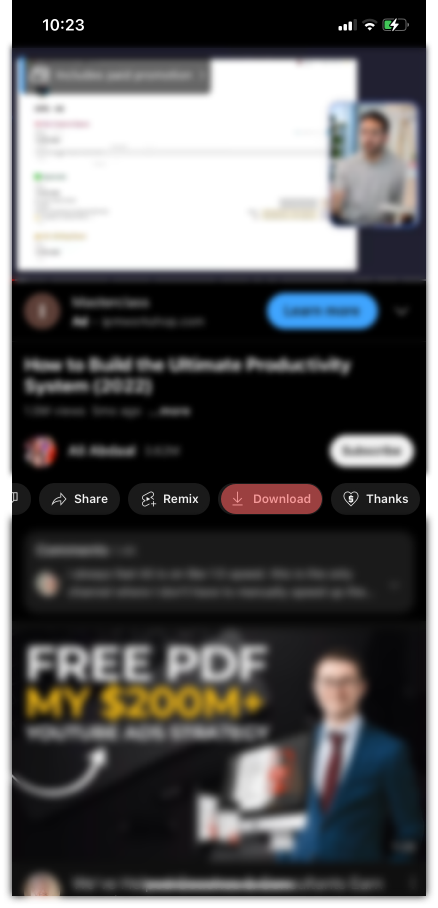 However, you need to subscribe to YouTube Premium to use the download function. If you want to download YouTube videos for free, an online video downloader is the best choice. Because if you use a downloader in the form of the APP, you need to complete the download and installation. They take up space on your phone, which is a waste if you don't use them much.
Downloading Videos from Youtube by DMSAVE
DMSAVE is a free online video downloader that lets you easily download videos from thousands of different websites, including YouTube. Only a few clicks are required to get the job done, and you can save these videos to watch later even when you're offline.
How to Use DMSAVE Download YouTube Videos on iPhone
DMSAVE is well adapted to the screens of various iPhone models, making it easy for you to use your iPhone to download YouTube videos. Here are the steps to download YouTube videos using DMSAVE:
Open YouTube APP and find the video you want to download.
Tap the "share" button underneath the video and select "Copy Share URL."
Open Safari and go to DMSAVE - YouTube video downloader.
Paste the URL you copied into the input field and hit enter.
Select the download resolution and tap the download button.
Conclusion
When it comes to downloading videos on YouTube, there are a few different options. However, the best way to download YouTube videos is to use an online video downloader. This is because you don't need to install anything on your device and it is easy to use. And DMSAVE will always be your best choice. It's free and easy to use.
What Else Can DMSAVE Do
DMSAVE is a free online downloader to save high-quality videos for Twitter, Instagram, Facebook, Vimeo, Dailymotion, TikTok, Pinterest, Twitch, and many more websites. You also can download Facebook videos using its browser extension. In addition, you can easily convert the downloaded videos to MP3 or MP4 format without extra software.
If you have any questions or suggestions about this video downloader, please contact us.